Top Watches of 2019 For A Night Out
Westime is highlighting 6 of the most stylish and eminating watches for a night out on the town!
Explore the links below or visit one of our locations to discover these exceptional machines in person!
---
Zenith Defy El Primero 21
The Zenith DEFY EL PRIMERO 21 represents a quantum leap in both performance and mechanical design. This is a competition against no-one but itself. The newly upgraded movement of this outstanding timepiece boasts a frequency of 360,000 A/H (50 Hz), ten times that of its world-famous El Primero predecessor, enabling 1/100th of a second precision.
An exquisitely designed display magnifies the effect of this astonishing frequency: the inner bezel bears a scale graduated from 1 to 100 around which a 1/100th of a second hand sweeps at a lightning speed of one turn per second, offering unprecedented visual impact and a surreal time-travelling experience for the lucky wearer. Echoing the trend in modern engineering development and ensuring optimal performance, this incredible mechanical complication is achieved using a far smaller number of components, minimizing tedious assembly and adjustments. In addition to significantly improved performance and mechanical structure, the design of the TIME LAB-chronometer certified DEFY EL PRIMERO 21 draws inspiration from the rugged good looks of its 1969 predecessor. Framed by a 44 mm case made of grade 5 titanium, the openworked dial of the DEFY EL PRIMERO 21 offers a resolutely contemporary background for the key identifying characteristics of the legendary original: a star-tipped sweep-seconds hand, large luminescent baton-type hands and facetted hour-markers all paying proud tribute in a stunning demonstration of futuristic brilliance.
Click Here To View Zenith's Defy El Primero 21 | Click Here to See It In Person
---
Richard Mille RM 07-01
Ladies are increasingly interested in and sensitive to the appeal of wrist watches. The RM 07-01 represents the perfect mechanical synthesis between Haute Horlogerie elegance and the 'tough love' provided by new materials.
Aesthetic Appeal, Perfect Integration
If the RM 07-01 shines with its extreme mechanical perfection, it also shines with the sensual and curvaceous lines of its tonneau shaped case design -the smallest of the collection- and its dial with a gemstone set center field. The heart of this timepiece centres on the in-house designed CRMA2 calibre, a highly skeletonised automatic movement developed specifically for the RM 07-01.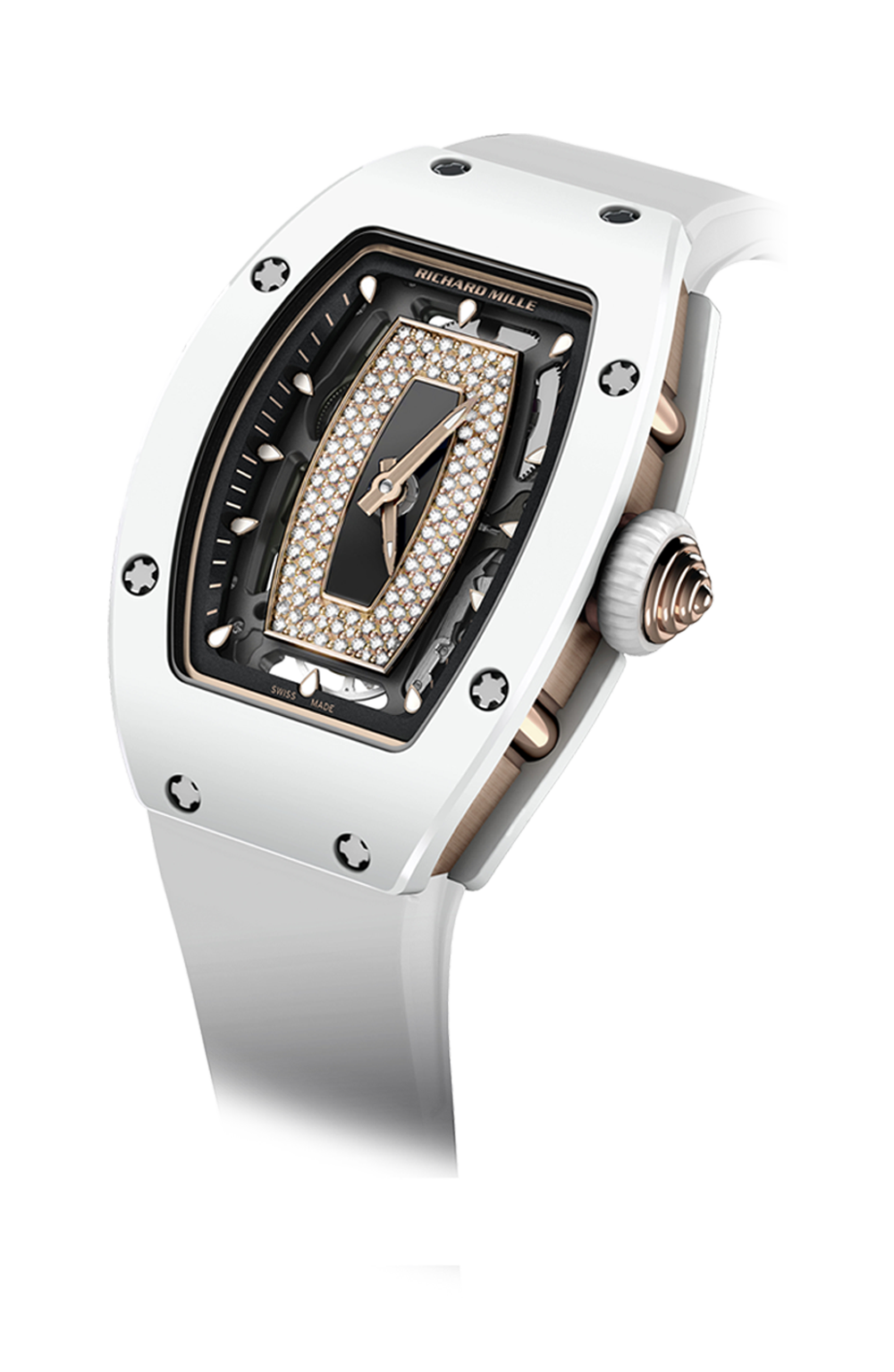 The Richard Mille RM 07-01 is not currently displayed on our site, please visit one of our stores to see it in person.
---
Bvlgari Octo Finissimo
The Octo Finissimo Automatic in sandblasted rose gold pushes the boundaries of watchmaking feasibility: each element has been conceived and designed right from the outset so as to contribute to the extreme overall slenderness of this exceptional timepiece. In the 15th and 16th century, Italian artists such as Leonardo Da Vinci excelled in creating both innovative and timelessly beautiful masterpieces. Driven by the same genius, Octo combines a unique octagonal design – inspired by the 310 AD Roman Massentius Basilica - with exceptional mechanisms. Epitome of resilience and finesse, the Octo Finissimo Automatic asserts its stature as a supremely contemporary timepiece bringing the strength of modern materials to the muscle of architectural design. Octo Finissimo Automatic watch with mechanical manufacture movement, automatic winding and platinum microrotor, small seconds, BVL 138 - Finissimo caliber (2.23 mm thick) decorated by hand with côtes de Genève, chamfering and perlage finishing. 40 mm extra-thin sandblasted 18 kt rose gold case (5.15 mm thick), transparent case back, sandblasted 18 kt rose gold crown set with ceramic, 18 kt rose gold dial, 18 kt rose gold bracelet and folding clasp. Water-resistant up to 30 metres.
Click Here To View Bvlgari's Octo Finissimo | Click Here to See It In Person
---
URWERK UR-111C Black Cobra
Once you have seen it, it is impossible to get the UR-111C Black out of your mind. It seems deliberately designed to mesmerise. At first glance, it is the fiery contrast of the orange markings against the dark case that captures the imagination. Then the case itself. You can almost feel its balanced and fluid lines moulding to your wrist. Like all of URWERK's watches, it's built to astonish, albeit on traditional mechanical watchmaking principles. And it's true to URWERK's purpose — to demonstrate unusual and unexpected ways of telling the time on your wrist.
There's one certain thing about the UR-111C Black. You've never seen anything like it before. The grooved case in black-coated steel and titanium curves along its ample length and width. The curved sides are held by transversal screws in half pipes. And what's that roller in the middle for? Or the lever along the side of the case? Nothing is obvious, all is intriguing.
To appreciate a work of art, you must understand its creator. Martin Frei, URWERK's designer and co- founder, is a master of intriguing design in which every detail reveals another to draw you deeper into the soul of your watch. No feature is gratuitous, lines and volumes are meticulously thought out and co- ordinated into a coherent and harmonious living instrument.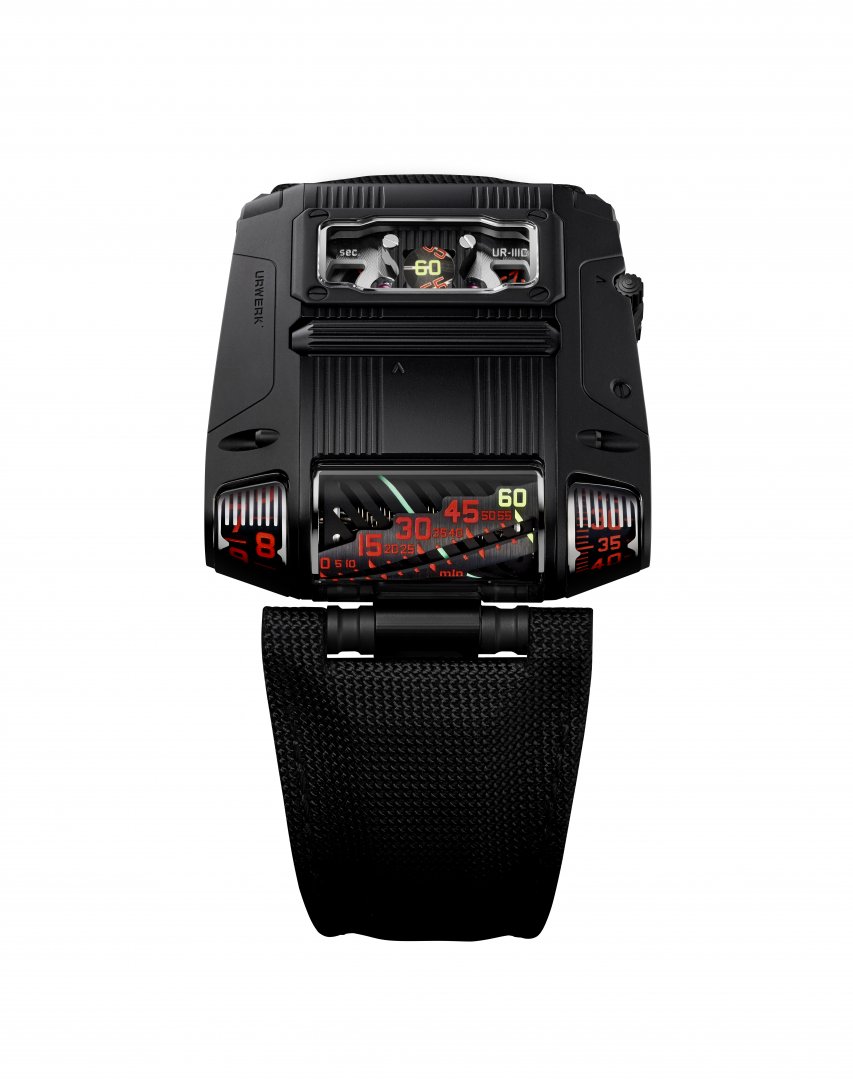 Click Here To View URWERK's UR-111C Black Cobra | Click Here to See It In Person
---
Ulysse Nardin Executive Skeleton Tourbillon
Prepare To Be Seduced
The essential beauty of the inner workings is fully revealed by its bold, aerial design. A design which takes the oversized Roman numerals, sword markers and raised rectangular bridge of the Executive collection and makes them sing with a renewed power.
The Substantial Character
The 45mm Executive Skeleton Tourbillon is deceptive: this piece is in fact ultra-light. This timepiece means business and celebrates the technical savoir-faire, pioneering expertise and artistic sensibility of Ulysse Nardin.
Click Here To View Ulysse Nardin's Executive Skeleton Tourbillon | Click Here to See It In Person
---
MB&F Legacy Machine Perpetual
With Legacy Machine Perpetual, MB&F and independent watchmaker Stephen McDonnell have reinvented one of the most complex traditional watchmaking complications: the perpetual calendar.
The result is Legacy Machine Perpetual, featuring a visually stunning in-house movement, developed from the ground up to eliminate the drawbacks of conventional perpetual calendars. The 581-component, fully integrated and purpose-built movement of Legacy Machine Perpetual has been designed for user-friendly and trouble-free use: thanks to an innovative "mechanical processor" (patent pending), no more skipping dates or jamming gears, and the adjuster pushers automatically deactivate when the calendar changes, so no problems there either.
Click Here To View MB&F's Legacy Machine Perpetual | Click Here to See It In Person